Transpyre presents...

The Philly premier of TransEntities: The Nasty Love of Papi & Wil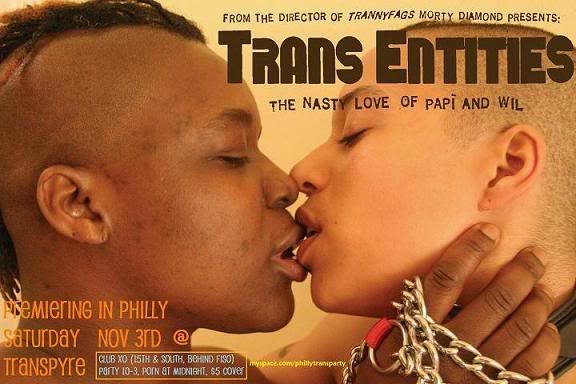 A hot new trans queer poly porn by "Trannyfags" director, Morty Diamond.

"Papi and Will is a film about a hot, pervy, loving, polyamorous transgender couple. I felt compelled to shoot a movie about Papi and Will from the many discussions I have had with them about their life together and felt that their story is a rare and special one. On screen Papi and Will share with the viewer everything from their unique perspective on gender identity to how they negotiate multiple partners in their life.The sex scenes are filled with raw, uninhibited exploration and incorporate BDSM, roleplay, and a lot of hot sex!"


When: Saturday, Nov 3rd
Where: 2nd floor of Passional Toys (620 S. 5th Street)

Showtimes: *8:00 PM, *9:30 PM
*followed by an intimate Q&A with Morty

Tickets are on sale at Passional Toys and via myspace (send us a message)

Cost: $5

Price includes free admission to Transpyre's POLY PORN & PARTY POLITIX at XO Lounge - 1418 Rodman St - 11PM to 3AM)
You'll be automatically entered into the raffle to win a free dvd copy of TransEntities - drawing at midnight.

See you all on the 3rd!



Transpyre is Philadelphia's own alterna trans queer bdsm fetish party & demo space -- 1st Saturday of every month -- Bringing you hot (educational & experiential) hardcore demonstrations earlier in the evening at Passional; then light demos, drinks, dancers & dancing 'til 3am @ XO Lounge. Check out www.myspace.com/phillytransparty for more details.